Oh yes, its still Sagittarius Season and with all the news of the weird taking place, I must write another 3-way dance thing here. With the updated mess of high sensitive crap centered around old idioms that didn't hurt nobody, a familiar Christmas song that seemed innocent and another school official in freaking Nebraska had to get all hypersensitive about teachers can't display Christmas decors in their classrooms.
Like a centaur and an archer, I'm about to fire up my bows and arrows on this. I'm not messing around. Time to go to work!
First Dance Card: PETA, shut your mouth!
Yeah, I said it. So PETA has a problem with idioms. The very same idioms that many of us grew up hearing and using without any bother to no one. None! Oh let me see what you think is bad for animals:
"Just as it became unacceptable to use racist, homophobic, or ableist language, phrases that trivialize cruelty to animals will vanish as more people begin to appreciate animals for who they are and start 'bringing home the bagels' instead of the bacon,"
And this mess you said:
Instead of "kill two birds with one stone" say "feed two birds with one scone," and instead of "being the guinea pig," say "be the test tube,"

"Words matter, and as our understanding of social justice evolves, our language evolves along with it," it added.
And this list you provided is just wacky. Many of you must be drunk!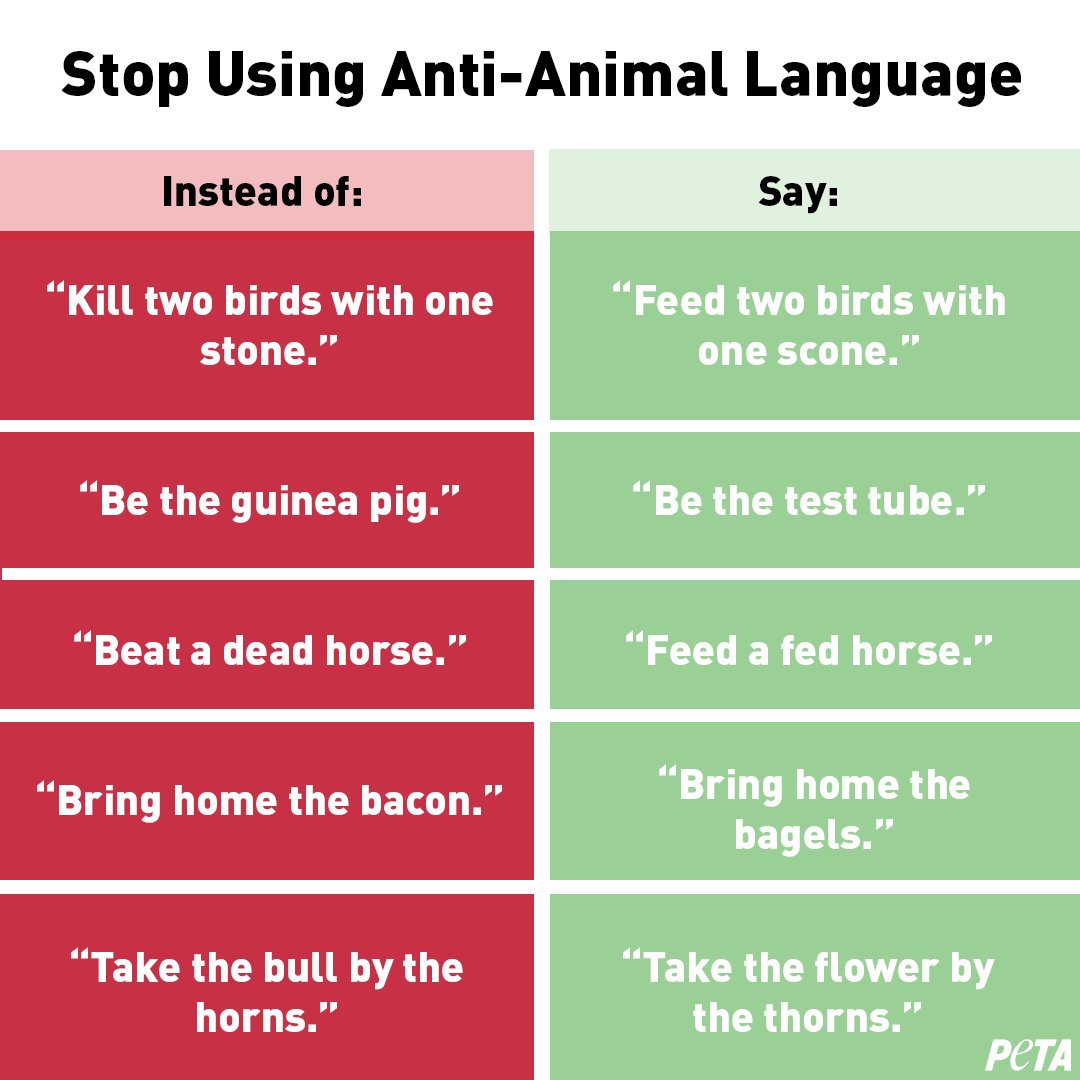 PETA I have to ask one question: What made you think you can change this around?! Do any of you have any idea what an idiom is? I'm sure many of you probably got that good education from school somewhere. Let me enlighten you on something: The definition of an idiom is this via Dictionary.com:
an

expression

whose

meaning

is

not

predictable

from

the

usual

meanings

of

its

constituent

elements,

as

kick

the

bucket

or

hang

one's

head,

or

from

the

general

grammatical

rules

of a

language,

as

the

table

round

for

the

round

table,

and

that

is

not

a

constituent

of a

larger

expression

of

like

characteristics.

a

language,

dialect,

or

style

of

speaking

peculiar

to a

people.

a

construction

or

expression

of

one

language

whose

parts

correspond

to elements in

another

language

but

whose

total

structure

or

meaning

is

not

matched

in the same

way

in

the

second

language.
Other Definitions:
the

peculiar

character

or

genius

of a

language.

a

distinct

style

or

character,

in

music,

art,

etc.:
What you have seen, PETA is 5 definitions of the word called, IDIOM! That is what many of us have been studying in English class way before many of you new generation PETA followers and workers was even thought about. So your so-called feelings of "Grab The BULL by the horns, or skin a cat" really hurts animals?! THAT MUCH?! Personally, nobody really gives a rats carcass what you think! NOBODY! All this crap you displayed here is nothing but attention! I'll bet many of your followers will fail YOU! Do I say these idioms, yes I do! And I better not see any of your anti-animal saying sentences near me! If I wanted to hear or to say an animal -like idiom that does mean nothing, I'll hear it! You do not, under any circumstances tell me what to say in the ongoing effort of your so-called treatment in protecting animals. My advice PETA: Grow the HELL up! Folks will continue to use idioms no matter what YOU or anyone else thinks! This is not about abusing animals, it's a form of English language as many of us OLDER folks know very well. It's not an attack on animals! Get your life!
Second Dance on the Card: "Baby, It's cold outside."
Ok. It's Christmas time in the city and many radio stations around the country, and you, as well as many others heard the jingles of Christmas Carols. No matter if it's traditional or the modern upbeat remixes, or yes the remakes that many are redoing like forever. No matter if it's I'm dreaming of a White Christmas, or Sleigh Ride, Carol of the Bells, or Joy To the World. Good songs, right? Well if those are good songs to listen in all, what's up with the song that many are banning across the country of Baby, It's Cold Outside?! It all started at a radio station in Cleveland that some hypersensitive stupid listeners who claim that the song, "Baby it's Cold Outside" had some strange lyrics, or the male singer didn't want the woman to leave since it's cold outside begging her to stay overnight. When I heard that this classic Christmas song from the 1940s is under fire NOW in the era of the Me Too Movement, I beg to wonder, what is the real problem here? What is the real problem of this song being in an uproar that you ALREADY KNOW that there are other genres of music uses crude lyrics and content almost EVERYTIME?! Does Gangsta Rap get a pass talking about B words and Whore words? Even with rock music? Or hell, even the late Miles Davis had a song in his music list called B***ch's Brew. The late John Elroy Sanford, aka Redd Foxx had a record out called "You Better Wash Your A**" Or some blues artists (not saying many) had lyrics with crude lyrics to make your head spin! Oh, nobody talks about those! But seriously, Baby, it's cold outside: I had to laugh at these so-called feminists who felt offended about a harmless Christmas song when our parents, grandparents and yet Great Great Grandparents were running the game! And I'll bet many of the feminists who felt offended had to go full tilt on the song that many don't understand! And I'll bet many are younger, Millennial/Generation-Z groups that don't do their homework. Or just took their version of the #MeToo Movement and threw it in the trash further. Keep in mind, the movement was started by a Black Woman, Tarana Burke. This is why we don't study! We don't study, we just assume that a song is bad and the feelings get hurt and don't take the time to examine the song of what it is the most. Am I a fan of Baby It's Cold Outside? No. You know what, I would rather play Baby It's Cold Outside than hearing the mess out of the mouth of our so-called President messing up the country like Scott Walker did to Wisconsin! I would rather listen to that song than all the mush-mouth rap music that will get no play on my playlist for my Birthday. Still: Happy December Birthday Month to Me! I would rather listen to the song than hearing about some fools going into the malls and snag up Air Jordans. If those same folks can get in crazed lines about a pair of sneakers, what would happen if they pack the church on a Sunday? EVERY SUNDAY?! Yeah, I said it! Folks, if you want to play the song, go ahead. Download it to your playlist, no matter which version you like and play the heck out of it! Crank it up. Go postal on it (legally) to listen at your desk for the Christmas Parties. Oh, yes, you will play it at the Christmas Parties full of Ugly Christmas Sweaters, candies, food, drinks, and posting the pics on Social Media. In the words of Paul Heyman, "This is not a prediction, this is a spoiler!" You know it's gonna happen. Don't front!
And the third dance on the card: Another attack on Christmas – IN A ELEMENTARY SCHOOL!
Oh, let me count the ways. For a long time, there was and is this "War on Christmas." This war on Christmas has been about against the Birth of Jesus, and of course, Santa Claus. This so-called stupid war is just that: DUMB! Ok, so not everyone doesn't follow the Christmas mantra of the Birth of Jesus Christ, the Decorations, Santa Claus, or wearing the ugly Christmas Sweaters or Santa Claus hats. So what.
But in recent news, in Nebraska, there has been this backlash of an elementary school that has been under fire about what the classrooms can display and can't display due to in their words: "be inclusive and culturally sensitive to all students." Wow really! Oh, the displays that the classrooms couldn't set up happened to be candy canes, Santa items like Santa Claus, Christmas Trees, Christmas Music, and Elf on the Shelf. For the candy canes: a mixed concern about Jesus Christ. For all those who haven't been to a Christmas Church Play in a while, and for those of you have the hate on it, let me enlighten you on something; the Candy Cane thing that many of us hang or will hang on our trees, actually has a shepherd connection. The Candy Cane with the hook represents a staff: a shepherd's staff. And when you turn the Candy Cane upside down, it represents the letter J – As in Jesus Christ. The Red Stripe curving around the Candy Cane represents the blood of Jesus. Gosh, I've known this since those Christmas Plays I've been in growing up in Church. As a matter of fact, MANY FOLKS KNOWS ABOUT THIS!
Whether you still like church, or hated it since you left and got woke and conscious, many had to get the message. You can hate all you want, but the fact of the matter is, this is like robbing your kids' childhood. You are robbing a joy that your kids may not get again all because of a certain ignorance that you developed since many have made the exodus OUT OF CHURCH! The beliefs have stopped. And all the fun that has stopped all because of the lame adults that got mixed up with a "mumbo jumbo propaganda hate mentality". And oh, this leads to racism, sexism, and any other "ism" that you produced and poisoned the children after they're BORN! And you wonder, "what's wrong with the kids?" The fault of the kids' attitudes is squarely on one particular group of folks: ADULTS! PARENTS! Yeah you so-called grown folks, you are the problem. If we want our kids to change, WE NEED TO CHANGE FIRST! It starts with us and ends with us.
Rant over. Now the arrows and bows are still deadlocked!