I'm assuming that everyone in the country and parts of the world is still on the country's DNA of Racism. Just admit the word and talk about race is NOT in relation to the Human Race commentary, it's in relation in hating on those who are African Decent.
I'm sure that many were paying attention to the LA Clippers – Golden State Warriors NBA Playoff series yesterday, and will do also on Tuesday in terms in the ongoing saga of hating on blacks. We've seen the game in which the team, all of them were unison with their warm up shirts inside out, with black socks, and their unis. Many I'm surprised that was a fake protest. Really? I want those folks, especially if you're black yourself reading this at work, or at the house, that was a protest. Not the protest. A protest. It was their protest that showed disdain of the organization and mostly their owner who felt to be a racist of not liking black males coming to his games. The NBA is now getting more black every year. Why? Approximately 80% of the players that are ACTIVE in the NBA as players, are black. No offense to those who are non black, but that's just what it is. It's a working environment. Now I know that their protest of silence is not compared to 1968 when Tommie Smith and Juan Carlos who stood on the podium with their medals after they won their Olympic event with the fists in the air and not looking at the American Flag during the ceremony. Also, 1968 was the year when Martin Luther King and Robert F. Kennedy were Assassinated 2 months apart.
Now I know that the TMZ folks leaked the recording of Donald Sterling and his now ex-girlfriend V. Stiviano were talking. But also: Deadspin.com has a recording and it's 6 minutes longer than the first:
I had to listen to that, and personally it seems to me that Donald was more vulgar and more angrier than the first. It's clearly in my view and the view of others that Donald Sterling has issues. And if those in America that doesn't think that is all real or not that effective, you must be under a rock. THINK ABOUT THIS: what would that were to happen to you. Oh, you might have those who think and assume that they're colorblind and don't see color, that reality check will sink in. And trust me, the issue of White Supremacy is just as dangerous as a Anaconda striking it's prey without warning. But for this, the striking is bad towards black folks in all areas that doesn't want black folks around period. About a year ago I commented about the jobs angle. And employers need to stop tripping about hiring of folks, especially blacks. And also I commented about my experience with Dresser Waukesha and how I and many others in Wisconsin via the Midwest was dissed for the jobs because of my skin tone of African-Decent. And plus, I was real serious to say that many of these well-known or so-called better companies need to wise up in terms of them trying to find that dressed up candidate. Especially if those who are in those CEO boardrooms who don't want black employees. And I dare say (DARE SAY) there are those who are black that don't want black employees who well skilled and prepared in their companies. Think about it. Now there are those that will do and do so. Even if those have criminal records, that go back years and years trying to repair their debt to society and still can't get that job from their mistakes from 20 years ago. For them, they need to probably should start up their own business hire potential folks of applicants they want.
And now: the reactions.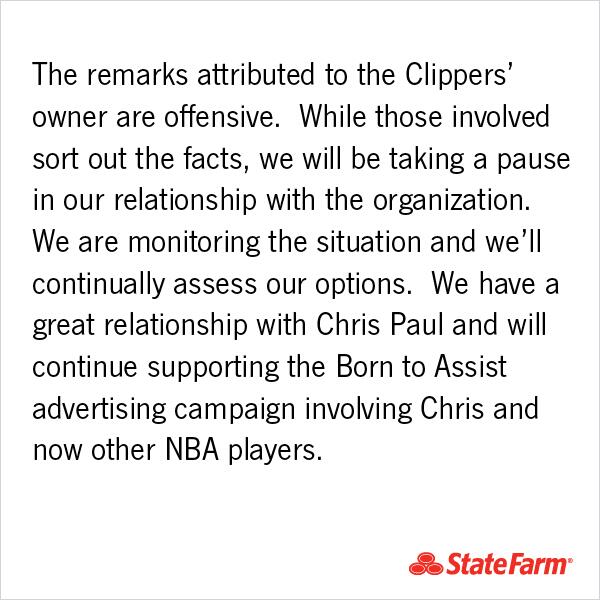 We've heard from Magic Johnson.
We've heard from Michael Jordan.
We've heard from some in the NBA like Shaq, Kenny Smith, and yes Charles Barkley.
And yes we've heard from President Barack Obama, and well as some civil rights Activists and connections all condemning the actions of Donald Sterling. And just today, Virgin America, Kia, Aqua Hydrate, Carmax, Hyundai, State Farm, and Mercedes Benz, have decided to cut ties with the LA Clippers. And the NAACP's L.A. Chapter was going to present Sterling a recognition next month, but they to have decided to pull away from him as well. You see how words can hurt? See that? All of that will get you noticed and get you out of the right out of the pasture! And think about this also, those who work for the companies effected, they're jobs could be on the line. And even a member of the Village People is seeking to ban their song Y.M.C.A. from the Clippers Games. And even one third of the group TGT, Tank (who is Milwaukee Wisconsin born) will not sing  his version of the National Anthem at the Clippers Game coming up. Now I know there are some overly patriotic folks might call him a coward for not singing America's song. Oh really. Tank is not a coward of making a stand of what he believes in. Flat out.  It's not about the money!
And I wouldn't be surprised that there will be more coming out and saying no to anything that is LA Clippers related. So again, this is what happens when ignorance opens up like a festered smell and it unleashes on everyone. That is what is happening here.
And do I agree that Donald Sterling should be given the "Vince McMahon you're fired speech". If he degrades himself like that, and the whole world gets in on it, then yes, he should be booted off the island. Or in this case, the plantation needs to be destroyed.
And that is my rant and comment.